"You can't handle the Truth."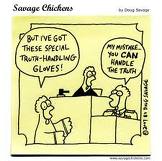 Lately, this line from "A Few Good Men" has been resonating in my mind like some Eveready tuning fork… it just keeps on ringing. And it rings true.
What is the Truth that I can't handle? I wish the Universe would be a bit more specific sometimes. I can't handle the truth that I am totally in charge of how I react to my world. That would be just too much, wouldn't it?  I know I couldn't handle that.
Heck, I can't even handle the "P" word that has been thrown at me all my seeming life. The "P Word"? "Potential".  As in "You have so much potential".
1. possible, as opposed to actual
2. capable of being or becoming
3. expressing possibility
4. a latent excellence or ability that may or may not be developed.
In physics, potential energy is the energy stored in a body or in a system due to its position in a force field or due to its configuration.
What does this all mean? It means that I can NEVER, EVER live up to my POTENTIAL, because of the Laws of Conservation of Energy. There Mom and Dad – NOW are you satisfied?
Because no matter where I am, there is always the potential to do more, to be more, than I was just a minute ago. This should be a relief actually. Wait a minute. This SHOULD be a relief, actually…..
If there is always more, then I can let go of the disappointment I have in not living up to my "full potential"! Maybe this is – pardon my pun – POTENTIALLY a good thing to realize!  But if I can never live up to my potential, then how do I know if I am living at all? Well, some things do seem to change. And sometimes I notice that life is reflecting my intention for it. Like I said – "I can't handle it if I am totally in charge of how I react to my world. That would be just too much, wouldn't it?"
"WHY NOT ASK?" (Scary booming voice from above or somewhere nearby….)
"Ask what?" (Timid, potentially scared voice)
"ASK FOR WHAT YOU DESIRE."
"I thought you already KNEW all that?" (Questioning voice) – aside – "actually I hope that not everything is seen, if you know what I mean…."
"IT'S OK TO WANT SOME STUFF TO MAKE YOU HAPPY. YOU JUST NEED TO BELIEVE THAT YOU WILL RECEIVE IT, THAT PERHAPS I HAVE YOUR HAPPINESS IN MIND ALL THE TIME".
"That would be cool."
So here we go. "Ask, Believe, Receive." Right? Sounds like some channeled message from… wait a minute….
Maybe I could handle the Truth if it were that simple. Maybe I could believe enough for at least something little to happen… like that I could get over my fear of revealing my innermost thoughts in front of people.
First I have to be unafraid to ask. I wonder if I don't really believe that I should be happy, and that's why I don't always ask for what I really want…. I really want to be happy! Really! I want more money and I want a partner who gives… great conversation… and I want life to flow easily from one thing to another.
OK, now I've asked. Now what?
BELIEVE.
If I had enough courage to ask, I guess I could go ahead and believe. Believe what? Believe that it is OK to ask and that the result might be… that I receive! Now THAT is some POTENTIAL that I could handle!
ASK. BELIEVE. RECEIVE. Simple.
I am excited about the potential of this. Maybe, just maybe, I CAN handle the Truth!